Frugal Ways to Still Have Fun
Let's face it: the last month or so you've been a girl about town. Celebrating, feasting, traveling and, of course, shopping. The holidays are one of the most joyous times of the year but also one of the hardest on your wallet. Now that the giving season is behind us, your free-for-all spending has likely left your pockets a little emptier than you'd care for.
And really, the spending spree hasn't quite reached the finished line. After all, we still have New Year's Eve ahead of us. There are parties to attend, sparkly dresses to obsess over, and maybe for a few of you, even another round of travel.
So what's a social butterfly like yourself left to do when she's stuck between an empty wallet and FOMO (fear of missing out)? Though January weather can be harsh, it's no excuse to lock yourself away for the winter months. No, instead you need a guide to help you strategically plan your social life on a shoestring.
Of course I, above all people, understand your pain. Leaving my job earlier this year has left me happier but doesn't exactly have me rolling in cash-money. Lucky for you, this means I'm one step ahead on the social strategizing. If someone wants to see a Hobbit they'll have to head to theaters because TSD is bringing you 10 ways to keep your social life afloat without breaking the bank.
Read on for 10 ideas for socializing on a budget.
1. Get Your Game Night On
No need to go out! Invite the girls over to your place for game night. Ask everyone to bring a snack and a bottle of wine, and you're set for a raucous night of good-old fashioned fun. Before graduating college I would have thought this was an eh-eh idea. Somehow, after graduating, game night became a totally acceptable and looked forward thing to do. I'm glad us post-grads have come to our senses.
2. Treasure Hunt at a Flea Market
I personally love a good flea market. You never know what kind of interesting treasures you'll find and eccentric personalities you'll meet. It's always good to go in with a game plan to avoid getting overwhelmed. If you've got a friend who's in need of a new nightstand or a tacky piece of lawn art, consider a flea market the perfect day-out for you two.
3. Sample Your Way Through a Farmer's Market
If you know me well, then you know I have a healthy obsession with sampling. I especially love sampling my way through the many Farmer's Markets in L.A. What better way to get out and enjoy some fresh air with a friend than to take a stroll to your local farmer's market and amble leisurely amongst the many tasty offerings?  You can both knock grocery shopping off your to-do list or you can split your bounty and…
4. Make Like the Food Network and Cook at Home
Eating out is not your only option. Plan a menu with a friend, and invite her over to your place to whip up a meal together. Keep it simple to keep it stress-free. No need to go all Giada de Laurentiis on us. Pasta, salad, tacos… easy. For an interesting twist, you can each pick one dish you want to teach the other. Kind of fun, right?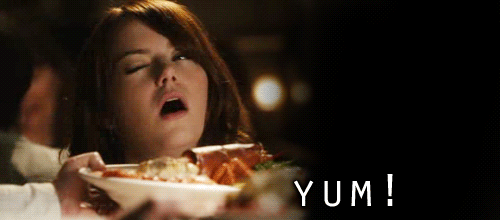 5. Treat Happy Hour Like Your New BFF
If you do decide to dine out, the hours from 4-6 PM are your best bet. Happy hours are great because you can order menu items for just a few bucks. If you've got a close crew at work, this is a particularly perfect option for spending time with them outside the cubicle walls. Another good tip here is to check Yelp for special offers. I've come across many places that offer a free drink or appetizer just by checking in.
6. Start Caffeinating Over Intoxicating
Alternatively, just skip boozing altogether. Nothing can rack up an intolerable bill quite like tossing back a few bottles (er, glasses) of wine. Better to suggest meeting up over coffee instead. A $4 latte doesn't seem quite so offensive when pitted against a $10 glass of Chardonnay. Perfectly, Starbucks has announced they they are rolling out a new concept called Starbucks Evenings. With lower lighting, cozier seating arrangements, and a new late-day menu, they're welcoming girls like us to move our happy hours from the one bar to another.
7. Start Your Own Reading Rainbow
Actually, Starbucks new Evenings is not only a great place to grab a skinny peppermint mocha with a friend but also a perfect option for hosting that new book club we recommend you start. Book clubs are great because (1) books can be borrowed from the library or downloaded for free, (2) rarely do you end up discussing the book for more than a few minutes, and (3) it keeps regular socializing on your calendar. Give each girl a chance to pick a book and lead the discussion to keep everyone engaged.
8. Get Classy and Cultured
If reading isn't really your thing, there are plenty of other fun free options to get you out of the house. Do some investigating and figure out what free attractions and sites your city has to offer. In L.A. one of my favorite places is The Getty, a free museum that also hosts free live concerts in the summer. To spice it up, make a bucket list of things you want to see and do in your city during the next year. Make an adventure of it by enlisting friends to help you cross things off the list.
9. Walk or Hike it Out
Of course, one of the easiest activities to plan is a walk with friends. If a friend suggest hitting up brunch on the weekend, offer up a hike instead. By skipping the sugary carbs and mimosas both your wallet and your waistline will thank you. Aside from that, research has shown that exercising with friends can help us feel more bonded to them–apparently through the mutual release of endorphins. Can't think of a better reason than that to lace up!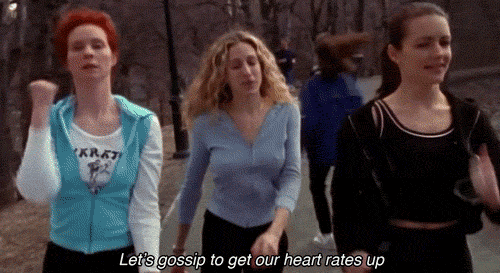 10. Settle in for a Good Chick Flick + Wine
When all else fails, you know you've always got a good fall-back with a classic chick flick and a bottle of wine. You love it. Your girls love it. It's a win-win.
Superbly Single,
Jen